When you know exactly the teddy bear or animal you would like, but we don't have them in stock yet, you can place a pre-order on the website.
To do this -
Click 'Add to Cart'
In the shopping cart click the button on the right that says 'Preorder' as seen in the image below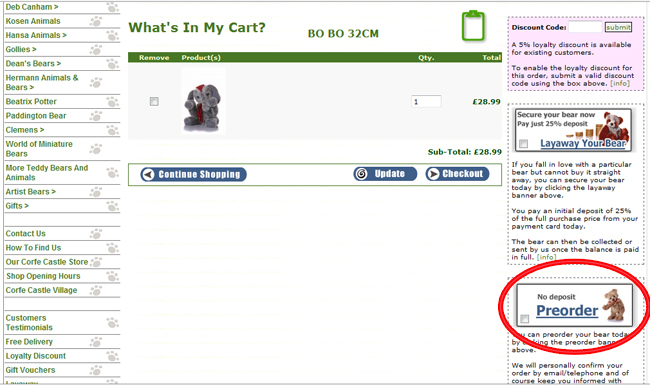 Your subtotal will be set to zero.
Continue with the pre-order by following the instructions on the screen. No payment will be taken.
You will receive an email confirmation of your pre-order. When your bear arrives we will contact you by email or telephone to arrange payment and prompt shipping.
Charlie Bears Plush Pre-orders
Charlie Bears are very popular  - so much that the company can't make them fast enough! To avoid the situation where collectors have to wait for the second or third delivery of a particular bear before they get to the top of the list, we take a limited number of pre-orders on plush Charlie Bears. If you are able to place a pre-order this means that we very much hope that whenever the bear next arrives, you will get one.
This does mean that sometimes you will find we are not taking more pre-orders of the bear you want, but we think this is better than letting you order when there is a list already, then wait, and wait…
For some more information on Charlie Bears pre-orders click here.