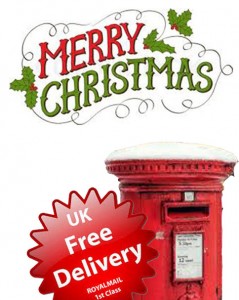 23rd December 2016 - Our last post before Christmas leaves this morning at 10am.
All orders from last night and early this morning have been posted!
Royal Mail and other delivery services re-commence Wednesday 28th so this will be the first date after Christmas that we will be able to post to you. In the meantime I will keep the Bears safe, provide a little company and make sure they don't over indulge over the Christmas period!
So just to confirm in between Christmas & the New Year we will be posting 28th, 29th & 30th December and then post will continue as normal when post services re-open in the New Year.
Just leaves me to say - A very BIG THANK YOU to all of you that have kindly adopted a bear … or 2 …  or even more!!! Your continued support is really appreciated by all of us here at Corfe Bears.
Our shop is open all day today & Christmas Eve (Until at least 2pm - phone to check after this time). See our Facebook page for more information or email us.
Have a great Christmas, Love & Best Wishes from Stace, Hayley, Lyn & Jade xxx
CHRISTMAS SHOP OPENING TIMES:
24th XMAS EVE    10-2
25th XMAS DAY    CLOSED
26th BOXING DAY    CLOSED
27th BANK HOL    CLOSED
28th OPEN    10-5
29th OPEN    10-5
30th OPEN    10-5
31st NEW YEARS EVE    10-2
1st JAN NEW YEARS DAY    CLOSED
2nd JAN BANK HOL    10-1 (possibly later, please contact us to check)
3rd JAN OPEN AS NORMAL    10-5