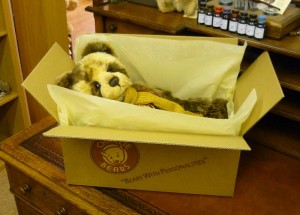 Your teddy bear will be carefully and lovingly wrapped to ensure a safe delivery to their new home.
FREE UK DELIVERY ON ALL UK ORDERS OVER £20 AND NOT EXCEEDING 2KG
Free delivery is usually via Royal Mail second class and will take 3-5 business days to arrive.
There will be a £1.99 P&P charge for 3-5 day delivery for all orders £19.99 and under
If your order exceeds 2kg in weight we will contact you (before we process your order) with any additional postage charge.
1-2 DAYS UK DELIVERY
Usually takes 1-2 business days and will be sent by first class post or parcel post depending on purchase.
If you'd like your bear to arrive more quickly, choose 1-2 day delivery for an additional £1.99
OUTSIDE THE UK
European Delivery is charged at £4.99 on all orders over £65 and not exceeding 2KG in weight.
European orders totalling less than £65 will incur a delivery charge of £9.99.
Delivery to destinations outside the EU will incur a delivery charge of £20.
Please note a majority of bears will not exceed 2kg however if ordering more than one you may wish to email us for further guidance, as we will do our best to keep any additional costs as low as possible.
Read what our customers have to say about us - click here for customer testimonials