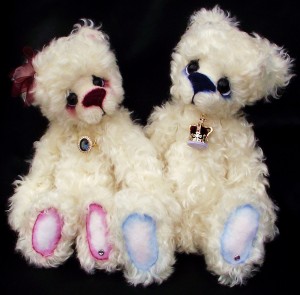 We are delighted to be celebrating the forthcoming Royal Wedding of Prince William and Kate Middleton with this fantastic, limited edition pair of teddy bears by Kaycee Bears.
The Royal Wedding bears have both been hand-made from beautifully soft curly kid mohair in warm winter white.  Kate has been airbrushed around her paw pads, nose and eyes with burgundy, which matches her flower.  William is airbrushed by hand with royal blue.  Each of the fully-jointed bears carries the trademark Kaycee Bears crystal in their cashmere paw pad.
Each bear wears around their neck a beautiful replica piece of jewellery.  Kate wears a replica of her engagement ring, once worn by Diana, Princess of Wales.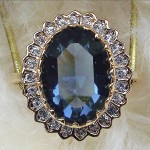 The ring is made from 9 carat gold plate and can be worn by an adult.  The central blue stone is surrounded by genuine Swarovski crystals.  William Bear wears a replica of St Edward's crown - the official British Coronation crown that he will one day wear as King of England.  The crown is also made from 9 carat gold plate and encrusted with Swarovski crystals.  Both pieces have been made by the company responsible for producing the official replica Crown Jewels.  Kaycee Bears have obtained a special Royal License to use these replicas.
This pair of bears, designed and made for the 2011 Royal Wedding by teddy bear artist Kelsey Cunningham and her team at Kaycee Bears of England, is bound to be popular and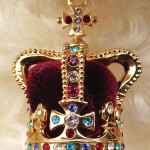 highly collectable.  They are even due to make an appearance on ITV's Loose Women on Friday the 29th of April, the day of the wedding!  They are perfectly packaged in an attractive presentation box with a clear lid so they may be displayed safely inside the box if you prefer.  As numbers are so strictly limited it is advisable to order promptly to secure yours.  Click through for further details Royal Wedding Teddy Bears by Kaycee Bears