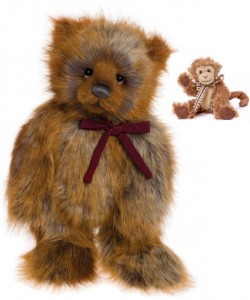 A Charlie Bears Mina Monkey Keyring (normal retail £9.99) FREE with every Gingerbread Ted purchased from us.
Gingerbread Ted has a gorgeously thick, long-pile coat with ginger and grey tones. He has a sweet, round face, with a bold, hand-stitched nose and twinkling, expressive eyes. He wears a deep red bow that compliments his colouring!
He retails at £68.00 and like all of our bears will be sent by Royal Mail 1st Class. The Mina Monkey will automatically be added to your order and will be received boxed with your Gingerbread Ted.