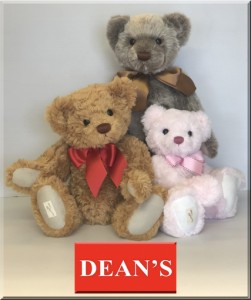 Please see below, comments from a very happy customer who has just bought her first bear from the new Dean's Collection.
Dear Corfe Bears,
Thank you so much for Teddy Leonara - she is very pretty and cuddly with a lovely colour fur. As always, she arrived very promptly and beautifully packaged. You are my favourite bear shop!
Best wishes,
Cath
Dean's produce both plush & mohair bears. All Limited Editions of 399 or less!
'Click on the Image' to take a look at their collections.