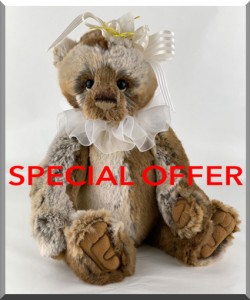 SPECIAL PRICE £37 …. £12 OFF!!   PREVIOUSLY £49
Along with Nyah we have a few other Charlie Bears also being sold at special prices or with free gifts and these can be viewed in our 'Charlie Bears' or 'Bearhouse' In Stock Sections.
Nyah is made from really soft thick fur in shades of taupe and ginger brown and this will feel lovely when you run your hands through.
Nyah is more girlie than her sister Kyra, as she wears a pretty organza and satin headband that is fastened into a bow.