On Saturday 18th November 2017 & Special Birthday Bear!!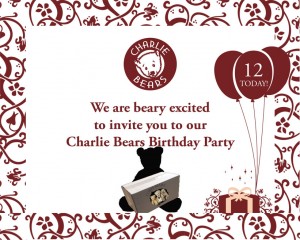 We will be holding our annual Charlie Bears Birthday Party in the shop on Saturday 18th November, to celebrate their 12th Birthday. The fun starts at 10am, when the shop opens and the mystery Birthday Bear will be inside, in sealed boxes, so come along and join in the excitement and see who is in the box?????????????
Please ideally call if you plan to come along, as cakes will be made for people who let us know in advance, but you are welcome to just turn up on the day. We will reserve a Birthday Bear for you, if required and if we have any spares after the party, then these can be posted out, so let us know if you would like to go onto this reserve list.