It may be late this year, but Easter is nearly here and what will your Easter bunny be bringing?  Will it be mountains of chocolate or something to be treasured?
We have some lovely toys and collectables that would make a perfect Easter present whether for a newborn baby or a more mature teddy bear collector (and everyone in between)!  So we thought we would tell you all about our bunnies…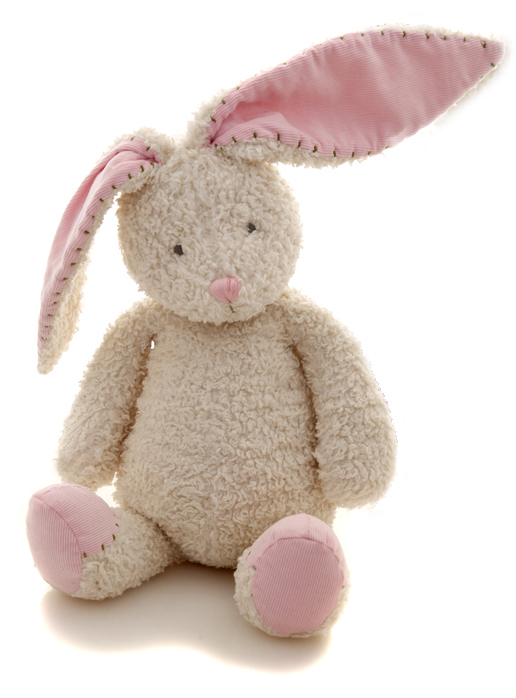 For the little ones we recommend Steiff Baby, Charlie Bears baby and Moulin Roty.  These bunnies are all made especially for babies from birth - they are not only safe for newborns, but designed to appeal to tiny hands and brand new eyes.  Fifi bunny rabbit from Charlie Bears is made from organically grown cotton plush and, like all of Charlie Bears, Moulin Roty and Steiff baby toys, can be machine washed after those little accidents or chocolate-eating moments!
Slightly older little girls are bound to be enchanted by Bearington Bears' gorgeous scented bunnies.  Choose from the chocolatey Fudge and Baby Fudge, or the strawberry-scented Bunni Bearypatch and Bitsy Bearypatch.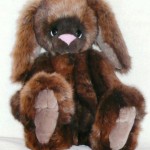 Kaycee Bears' bunny rabbits are highly sought after, with their great big feet and lovely, long lop ears.  We are very honoured to be offering our Corfe bunny rabbit, exclusive to Corfe Bears and designed and made especially for our Kaycee Bears signing event happening on Sunday the 17th of April just before Easter.  Corfe is made from beautifully soft plush fur in chocolate brown with paw pads made from luxurious cashmere.
Those seeking a limited edition collectable rabbit this Easter will be delighted to hear that we have reduced the price of our Dean's and Deb Canham rabbits just for Easter.  We have Kelly the black alpaca rabbit, Reggie rabbit and Peaches who are both limited to only 25.  These can be easily found in our special offers box on the home page.
Bunny rabbits make an appearance from almost all of our manufacturers - tiny miniature felt bunnies from Deb Canham, beautifully dressed boy and girl rabbits from Bearington, cuddly but realistic bunnies from Hansa and Hermann.  And we mustn't forget Beatrix Potter's classic, Peter Rabbit, his mother Mrs Rabbit and his friend Benjamin Bunny!
All of our Easter bunnies and our teddy bears are delivered via first class post - and free of charge for all UK orders over twenty pounds!
1/230

CB150004O

ACRE RABBIT 16" - £50.00

2/230

KCBADE

ADELE RABBIT 16" - £134.95

3/230

KCBALIC

ALICIA RABBIT 15" - £94.95

4/230

ANG4BN

ANGORA BUNNY RABBIT 32CM - £16.99

5/230

* new collection *

CB171782

ANNABELLE 11" - £50.00

6/230

3316

BABY BUNNY 30CM - £18.95

7/230

BASS6AQ

BASHFUL BUNNY AQUA 18CM - £11.99

8/230

BAS3AQ

BASHFUL BUNNY AQUA 31CM - £16.99

9/230

BASS6B

BASHFUL BUNNY BEIGE 18CM - £11.99

10/230

BAS3B

BASHFUL BUNNY BEIGE 31CM - £16.99

11/230

BAL2B

BASHFUL BUNNY BEIGE 36CM - £25.99

12/230

BB4GR

BASHFUL BUNNY BEIGE BABY GRABBER 18CM - £10.99

13/230

BAS4BB

BASHFUL BUNNY BLUE 28CM - £16.99

14/230

BLB4GR

BASHFUL BUNNY BLUE BABY GRABBER 18CM - £10.99

15/230

BASS6BLL

BASHFUL BUNNY BLUEBELL 18CM - £11.99

16/230

BAS3BLL

BASHFUL BUNNY BLUEBELL 31CM - £16.99

17/230

BAS3CB

BASHFUL BUNNY CHOCOLATE 31CM - £15.99

18/230

BASS6BC

BASHFUL BUNNY CREAM 18CM - £11.99

19/230

BAS3BC

BASHFUL BUNNY CREAM 31CM - £16.99

20/230

BASS6DOT

BASHFUL BUNNY DOT 18CM - £10.99

21/230

BAS3DOT

BASHFUL BUNNY DOT 31CM - £15.99

22/230

BAS3BH

BASHFUL BUNNY HONEY 31CM - £15.99

23/230

BASS6HY

BASHFUL BUNNY HYACINTH 18CM - £11.99

24/230

BAS3HY

BASHFUL BUNNY HYACINTH 31CM - £16.99

25/230

BAS3BMA

BASHFUL BUNNY MAPLE 31CM - £17.99

26/230

BASS6BM

BASHFUL BUNNY MINT 18CM - £10.99

27/230

BAS3BM

BASHFUL BUNNY MINT 31CM - £15.99

28/230

BAS3BPE

BASHFUL BUNNY PECAN 31CM - £17.99

29/230

BAS4BP

BASHFUL BUNNY PINK 28CM - £16.99

30/230

PB4GR

BASHFUL BUNNY PINK BABY GRABBER 18CM - £10.99

31/230

BASS6BS

BASHFUL BUNNY SILVER 18CM - £11.99

32/230

BAS3BS

BASHFUL BUNNY SILVER 31CM - £16.99

33/230

BASS6SB

BASHFUL BUNNY SORBET 18CM - £11.99

34/230

BAS3SB

BASHFUL BUNNY SORBET 31CM - £16.99

35/230

BASS6BTP

BASHFUL BUNNY TULIP 18CM - £11.99

36/230

BAS3BTP

BASHFUL BUNNY TULIP 31CM - £16.99

37/230

BAL2BTP

BASHFUL BUNNY TULIP 36CM - £23.99

38/230

BAS3BWA

BASHFUL BUNNY WALNUT 31CM - £17.99

39/230

BED4BN

BEDTIME BUNNY 23CM - £12.99

40/230

6981

BEIGE BUNNY RABBIT 24CM - £94.95

41/230

MM614759

BELLA - £64.99

42/230

PO16276

BENJAMIN BUNNY 22CM - £22.99

43/230

KCBBET

BETHANY BUNNY RABBIT 13" - £54.95

44/230

CB165106

BIANCA BUNNY 11" - £43.00

45/230

BITS6B

BITSY BALLERINA 24CM - £11.99

46/230

BIT3B

BITSY BALLERINA 37CM - £19.99

47/230

BLS6BN

BLOSSOM BEIGE BUNNY 18CM - £11.99

48/230

BL3BBN

BLOSSOM BEIGE BUNNY 31CM - £16.99

49/230

BLS6BLL

BLOSSOM BLUEBELL BUNNY 18CM - £10.99

50/230

BL3BLL

BLOSSOM BLUEBELL BUNNY 31CM - £15.99